EO TAIPAN MASTERCLASS – Virtual #2: Core Customer & Need: How to Find Product-Market Fit
October 27, 2020 @ 9:00 am

-

10:30 am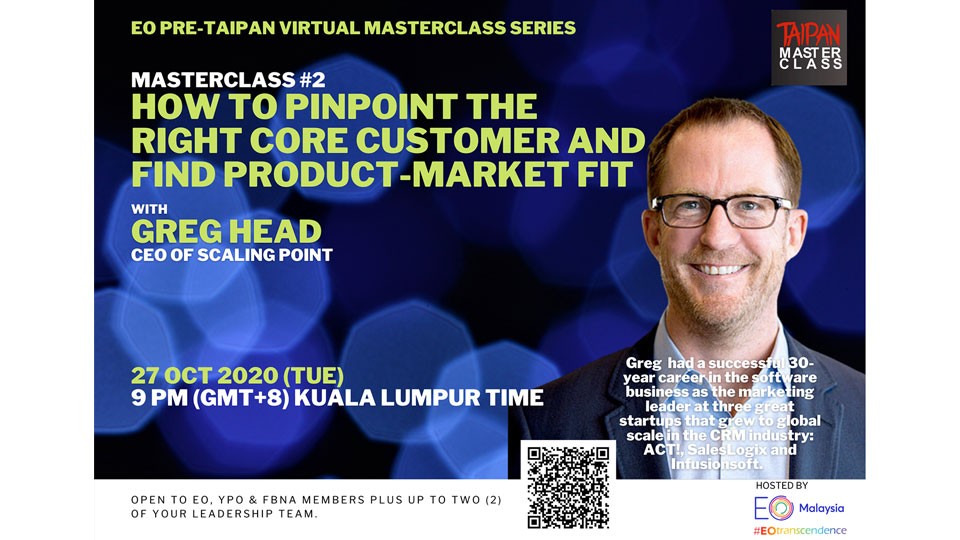 EO TAIPAN MASTERCLASS – Virtual #2: How to Pinpoint the Right Core Customer and Find Product-Market Fit
For the coming months leading up to the eventual EO TAIPAN Innovation & Outthinkers Masterclass, Kaihan Krippendorff and his buddies will share with us some snippets and insights into how we can strategize, drive innovation from within and outthink the competition in a series of 90 minutes virtual sessions. All dates are confirmed as below.
Every great strategy hinges on you selecting the right core customer and need. Being clear on the value to deliver (product) and who you serve (market) is the point at which all great businesses start to scale. In this session we learn from one of the world's foremost authorities on finding product-market fit which will set the foundation for activating exponential growth.
Speaker Profile: Greg Head
During Greg's 30-year career as a leader in the software and technology business, nothing has been more rewarding to him than creating big and meaningful companies and working with great people. Greg was fortunate to be part of the startup-to-scale stages of three great companies that have since created over $2 billion in total revenue in the CRM software industry, as:
An early employee and product manager for ACT!, the best-selling Windows contact manager in the '90s, eventually used by 4 million salespeople.
Co-founder and marketing leader of SalesLogix, the first mid-market CRM software, which went public in 1999 and was bought by Sage plc (LON: SGE) in 2001 for $300 million.
President and General Manager of ACT! with over 200 global employees from 1999 through 2004.
Chief Marketing Officer at Infusionsoft where we saw growth soar from $15 million to $100 million.
Greg is the CEO of Scaling Point (https://scalingpoint.com/), his consulting and workshop company for savvy tech founders and their teams who need marketing to work to grow their companies faster. Scaling Point help founders with positioning, product-market fit strategy, sales and marketing messaging, and GTM marketing plans. His team has worked with over 100 software and tech companies as marketing strategy consultants and growth advisors.
Greg spends a lot of time each week helping entrepreneurs as a mentor, advisor, and connector. Greg is an active software community leader in Dallas and Phoenix where he helped several accelerators, startup organizations, and CEO groups. He is also a proud father of two young adults and a husband of 27 years.
EO Taipan Innovation & Outthinkers Masterclass 2021
EO Malaysia will host annual regional event, TAIPAN Innovation & Outthinkers Masterclass in Kuala Lumpur, from 17th to 19th March 2021. For over three days, Kaihan Krippendorff will share with us on how we can strategize, drive innovation from within and outthink the competition using his Outthinkers Playbook and Driving Innovation from Within IN-OVATE Framework, which is based on years of intensive research, built on the latest thinking and experiences of experts, employee innovators, insights from top strategists from the Outthinkers Strategy Network and more.
Zoom – link will be sent to registrants one day before the meeting
Register: https://www.eonetwork.org/member/events-and-learning/event-details?eventid=9a827456-54f3-ea11-946c-005056aa1955