2023 US Moderator Summit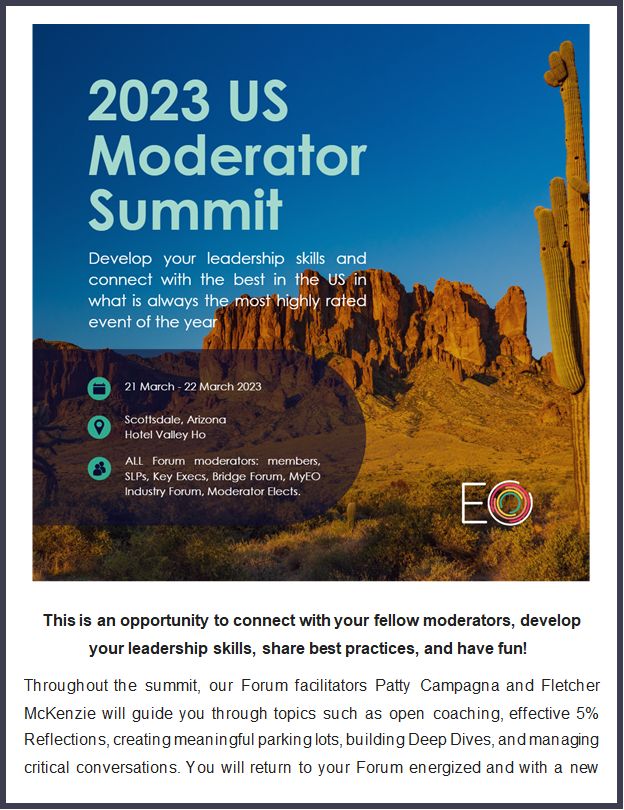 2023 US Moderator Summit
March 21st – 22, 2023
Hotel Valley Ho, Scottsdale AZ
Develop your leadership skills and connect with the best in the US in what is always the most highly rated event of the year: The Moderator Summit.
US Central, US East and US West regions are hosting a Moderator Summit as part of their Moderator Workshop Series Programme for FY2022/2023.
Moderator Summits are EO's premiere event for YOU, the Forum moderator. Designed to acknowledge and support moderators as the most pivotal leaders within our organization, Moderator Summits offer face to face connection and deep exploration of the most impactful moderator concepts.
During the summit, our expert Forum facilitators will guide us through topics such as open coaching, effective 5% Reflections, creating meaningful parking lots, building Deep Dives and managing critical conversations. You will return to your chapter energized, inspired, and with a new understanding of how to elevate your Forum experience and leadership journey from fellow moderators across your region.
Sign up now to dive deep with your fellow moderators, Forum Chairs, and Forum Experts to be inspired, challenged, supported, and heard.
World-Class learning and social events are also included with your attendance.